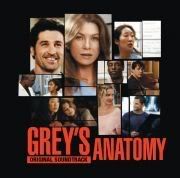 My Friend Danielle decided to get into Grey's Anatomy so she's been catching up through Netflix. I have been a die hard Grey's fan since the beginning and I love when I get my friends hooked. I had an Army wife friend while my husband was deployed and we had Grey's Marathons for days. We would rent Grey's free from the library and I ended up having to buy one season from Best Buy at the time which of course I was happy to do. We enjoyed our Grey's Marathon. So I decided I needed to watch them here too on my Netflix with Danielle. Mainly for research of my
Thursday 13
blog to find my 13 favorite episodes. I didn't know it would take me two-three weeks to finish my research. Now we are both done with Grey's Danielle finished up about a week after me. Now we are on to Private Practice. Private Practice is a spin off of Grey's and honestly I don't watch it that often but I am watching it on Netflix. I think I am on Season 3. I don't like Private Practice as much as I have loved Grey's. I liked Shonda Rimes other show Off the Map but I just couldn't find the time to watch it. I love finding shows I missed on Netflix like Secret Life of American Teenager, Dead Like Me, Brothers & Sisters (Danielle and I both LOVE- really tragic that its canceled now), I love the Tudors, and Weeds. Oh and my step son got me into True Blood he doesn't watch it no but his boss and co-workers do. I am hooked on all its hilarity and weirdness. I have tried watching Vampire Diaries but so far I am not sure if I like it or not. I am on a break while I watch Private Practice. Danielle's Iphone out of commission so she has to wait till Friday for a new one. Not sure how much PP she will be watching without it. So after Vamp Diaries and Private Practice should I watch Switched at Birth? I've been told I should. Hubby's been watching marathon's of Bones. I don't want to mess up his cue but I want to watch soon!
What things do you like to watch on Netflix? What are your favorite shows you try not to miss?
My weekly show line up is
House & Castle on Mondays
Tuesday/Wednesday is usually a reality show. American Idol is coming up
Thursday is Bones and Grey's Anatomy
I DVR or watch online episodes of MTV shows
Sunday's is Once Upon a Time, Desperate Housewives and Pan Am. I LOVE Pan Am!