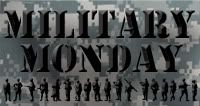 The Military Monday topic this week is
1 Are you worried/glad or whatever about the downsizing of our military?
2 How do think things are going to change?
Since my husband and son are retired the downsizing doesn't effect us. Nor am I sure about it or how I feel about it.
I do have an exciting announcement I hope it all works out but I have been selected as a Guest Military Blogger for DomesticDivaNation.com so stay tuned when I post with them I will update the link here! We are still working out kinks!