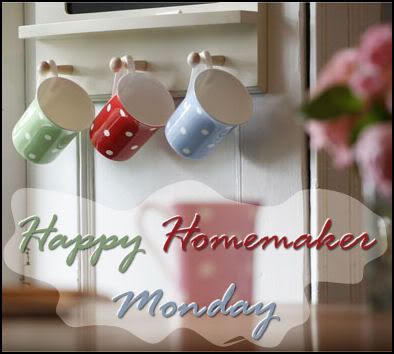 The weather in my neck of the woods:
We had some rain late last week which brought in a blistery cold front. Its getting a little warmer with the highs in the 60's. Today it might even reach 70! Sounds like a great day for the park!
Things that make me happy:
My children make me happy this week. I got a night out with my husband and I come home refreshed they both did well at their different babysitters and they make me proud they missed me and I missed them!
Book I'm reading:
Nothing right now
What's on my TV today:
House and Castle
On the menu for dinner:
Chicken and Mac & Cheese
On my To Do List:
Laundry
Make phone calls
New Recipe I tried or want to try soon:
I haven't gotten to try the Carrabba's Chicken Marsala at home yet.
In the "craft" basket:
I've been speaking to an online friend about an upcoming digital project
I want to do a scrapbook page about my sons attachment to my hair
Fleece no sew blankets for the kids
Looking forward to this week:
Thanksgiving
Putting up Christmas Decorations
Tips and Tricks:
Off of Martha Stewart
Create a Smart Calendar for the Year
Make a monthly calendar that is as changeable as your schedule. Instead of crossing out plans as dates shift, just move the notes and stack them up on busy days.
Calendar How To
Collect for Charity
Take advantage of all of that extra time spent indoors this season -- winter is a perfect time to tackle larger organizing projects. Clearing the clutter and bringing order to every room will reap benefits for the entire year.
This is the season for giving. And since it's cold outside, why not host your own drive for coats, sweaters, and other warm clothes? Set out a labeled collection basket and ask friends and relatives to bring an item to donate when they visit. Check that the clothes are clean and in good condition, then give them to a shelter or other charity.
Organize Your Medicine Cabinet
Discard expired cosmetics and prescription medicines. Affix a sheet of precut galvanized steel to the interior of your medicine cabinet with construction adhesive. Magnetic hooks can hold scissors and a mirror, and small plastic cups with magnetic bottoms corral small necessities, such as rubber bands and hair clips.
Bring Order to the Hall Closet
Take storage to new levels with shelves below a row of jackets. Install shelves near the base of your closet, and you'll no longer have to rifle through items strewn across the floor. Here, each family member has his or her own bin for hats and scarves.
The lower shelf is lined with shoes, and boxes tucked underneath hold dog toys, tennis balls, and the like. Leave a foot of space between shelves and the door frame, and you'll have room for boots and a metal bucket for umbrellas. Long hooks keep handbags neat. An acrylic organizer on the door ensures essentials, such as a wallet and sunglasses, are accessible; a mirror allows for a final once-over on the way out.
Upgrade Your Shelves
Add a splash of personality to a lackluster work space by covering plain floating bookshelves with wallpaper. Measure the shelf, and cut the wallpaper slightly longer and wide enough to wrap around it with an overlap. Use wallpaper paste to affix the wallpaper to the shelf, pasting one side at a time. Cut slits into excess paper at ends, forming flaps; fold down, and affix with paste. Let dry completely, and hang shelves as usual.
Never Forget a Birthday This Year
If the cards you buy tend to be of the belated variety, this calendar will serve you well. Print the template. Then fill in names and birth dates of friends and family for each month. Fold the chart in half to show six months at once, and pin it to a bulletin board or hang it on the refrigerator. You can even shrink it and slip it into an address book. With a glance, you'll be reminded of important dates ahead of time
Download Our Birthday Chart
Organize Your Shoes
Normally used in kitchens, a pull-out pantry becomes a shoe closet when the shelves are installed at an angle; professional assistance is recommended for this project. Nonskid shelf liners prevent pairs from sliding when the unit moves
Stock Your Spice Rack
To add flavor and kick to your winter dishes, keep an arsenal of spies and herbs in your kitchen. Stock these essentials, and you'll never come up empty-handed when following a recipe.
Get the Printable Check List
Create a Car Kit
Stock your car's trunk for winter-weather emergencies. Include a compact shovel, ice scraper, flashlight, sand or cat litter, flares, a heavy blanket, and warm clothing.
Detangle Jewelry
Four divided trays, painted orange, become a layered jewelry organizer. Two trays lie flat along the drawer bottom. The remaining two, joined with wood glue, form the top shelf, elevated by strips of 1-inch square molding affixed to the inner sides of the drawer.
Craft Some Stylish Storage Pouches
Whether you're packing a suitcase or storing items at home, these drawstring pouches are handy to have around. Made in a range of sizes, they are perfect for stowing jewelry, shoes, and even laundry.
[url=Drawstring Pouch How To]
http://www.marthastewart.com/how-to/drawstring-pouches[/url]
Color Code Your Home
A home color-coding system can bring order to your living space wordlessly, providing information at a glance without a miscellany of labels. Put hues to work, whether you are organizing papers, preparing food, or outfitting your entryway. With these bright additions, your living space will be far from drab -- and far easier to manage.
color code how to
Organize Kitchen Drawers
Clever ideas, practical storage, unusual solutions -- Martha shares her secrets for creating a kitchen that works.
See Martha's Organizing Tips
Hang Cleaning Tools
Wall hooks keep an assortment of brooms and mops off the floor.
Make a Stain Treatment Kit
Keep a variety of remedies at the ready: cornstarch, to absorb fresh grease stains; oil solvents, or dry-cleaning fluids, for greasy residue; combination solvents and a mild, clear dishwashing liquid for all-purpose stain removal; natural bleaching agents (lemon juice and white vinegar); glycerin, for ballpoint ink; and eyedroppers and cotton swabs, for easy application.
Keep Traction on Hand
Spread gritty alfalfa meal -- available from feed stores -- on slippery paths to provide traction on ice and snow. In spring, the alfalfa serves as a nitrogen fertilizer for surrounding greenery.
Organize and Display Photos
Why should your favorite snapshots linger in a drawer? Pull them out and create a display using colorful, inexpensive mats.
The Skinny on Photo Mats
Organize Computer Passwords
It's hard to keep all of those numbers and characters straight, especially since you shouldn't use the same password for more than one service. Find out simple ways to keep everything straight.
Password Storage How To
Consolidate Electronics
There are clever and stylish ways to conceal the necessary electronics of this modern age, without resorting to a haphazard arrangement stuck away in some inaccessible closet.
Hidden Assets
Buy and Keep Bulk Items Neatly
Do you have room for two dozen rolls of paper towels? Here are tips for getting good deals, as well as for stashing your purchases -- all you need to be a savvy and satisfied bulk buyer.
Tips for Buying and Storing Bulk Items
My favorite blog post this week:
Miracle MRI Recap. Ty is in Remission!
Amazing kid and amazing parents!
Blog Hopping (a new discovered blog you would like to share with the readers):
http://helena-alabama.blogspot.com/
No words needed (favorite photo or picture, yours or others you want to share):
Lesson learned the past few days:
Dating your spouse when you get married is very important. I knew this and tried to practice it with my first marriage. My husband and I don't get a lot of time to date. Sometimes we will tuck the kids in bed and leave them at home with their adult brother (he doesn't mind so much) and we take off for about 30 minutes. But twice this year we have actually go to go out with a real time constraint. I love how my hubby can get back to basics and reconnect on a raw level.
On my mind:
My bank account (someone took our money)
Getting a couch and getting the table repaired.
The Holidays
Devotionals, Scripture Reading, Key Verses:
The LORD is my rock, and my fortress, and my deliverer; my God, my strength, in whom I will trust; my buckler, and the horn of my salvation, and my high tower." Psalms 18-2.