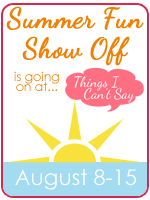 Whoa stop the presses! Summer is already over?
What a summer it was too! It seems like yesterday it was April 27th and we had a bad Tornado outbreak in our state and many many people were killed. That was spring! Where did the summer go? My oldest turned 11 and he is starting the 5th grade. My youngest turned 2 last week and my princess is now enjoying her first day of the 2nd grade (I hope!)
Usually I don't look forward to the summer because Skylar has to always be entertained and that's hard to do on a tight budget. Thankfully Rick and I had a game plan to go into the summer. Sign her up for camps and keep her busy! She had been telling me for months she wanted to go to the
Budding Chef Cooking Camp
. I thought it was a great idea and I was ready to make it happen. They were located in my down town area but then they moved over to the neighboring city in their down town... which I have a fear of driving in. I was willing to try though. I kept an eye on their calendar, their webpage, I called several times.. but I never could get them to give me straight answers. So that didn't happen. Skylar went to Vacation Bible School and a close by Methodist church I signed her up for when she was friends with the neighbors boy. So they got to see each other in class. Then I found a local gym that was having a Gymnastic camp. That worked out well and she had something to look forward to. We have even signed her up for the fall/winter season!
I think the best thing that could have happened to me (and my kids) was the fact that an indoor playgroup opened up just a few miles down the street from our house. We pay a monthly membership and we went at least 3 or more times a week. We took a couple of trips to Georgia to visit close friends. We had two trips to the zoo in Birmingham and we STILL haven't done everything there. We went to the McWane Science Center in Birmingham and anyone that knows us knows if we drive near or past Fultondale, AL which is just outside of Birmingham we HAVE to eat at Whataburger. We were lucky enough to see Sue the largest T-Rex visiting from Chicago at an exhibit at the Space and Rocket Center. Skylar got a new pet and I lost my pet my bird Lily. Our sad part of our summer is the "school house" is moving to Virginia. When Rick was in the Army he worked at the school house as an instructor. So all of our friends for the past four years are all taking their turn and moving away. Its a hard adjustment... the changes on post are already noticeable. Our friend and her family PCS'd to Germany on Sunday and we had to say goodbye at William's birthday party. We had lots of fun though and I have met some awesome people hopefully they will keep in touch.
Gymnastics
Learning to Ride a Bike
We had a visit from the largest, most complete T-Rex Sue!
Birthday Party and Fishing with Friends we said goodbye to on Saturday when they PCS'd to Germany.
At the Birmingham Zoo
At the Science Museum
Skylar's new pet
Playing at our Play Place



Happy Birthday Lil Man!
This morning walking to the bus stop
"Link up your Summer Fun for a chance to win prizes from Ubisoft."